Situated just north and slightly west of San Antonio, Texas — in the Texas Hill Country — sits the city of Boerne, home to Tapatio Springs Hill Country Resort and Golf Course. Originally home to a cattle ranch, the land developed to house a resort, conference center, and 27 holes in the early 1980s. In 2011, the owners filed bankruptcy, opening the opportunity for The King of Country, George Strait, and his business partner to purchase the property.
The country music legend, a life-long resident of Texas and named Texan of the Year in 2018, and his business partner, Tom Cusick, "…fell hard for the property in 2011 because it had so much potential and embodied what the heart of Texas is all about," said Strait in a release.
The 220-acre property, one of Texas's most scenic and beautiful areas, went through some much-needed improvements, but that wasn't an easy proposition. They faced drought conditions in 2012, eliminated the nine-hole course in 2013 to focus on making an 18-hole course viable, and then faced flood damage.
The resort and course underwent a $2 million restoration and debuted in 2015 as an affordable, family-friendly destination. In 2016, the 18-hole golf course was named "Most Improved Public Golf Course" by Golf Inc. Magazine. "What we looked at doing here was trying to bring the bones of a great golf course back into play," Tripp Davis, golf course architect of Tapatio Springs Hill Country Golf Course.
As luck would have it, the clubhouse suffered a devastating fire in 2017, destroying the building entirely. Because the clubhouse was essential to the guest experience, the entire resort closed. Two years later, the new 47,000-square-foot clubhouse, designed by Nunzio Marc DeSantis Architects of Dallas, opened.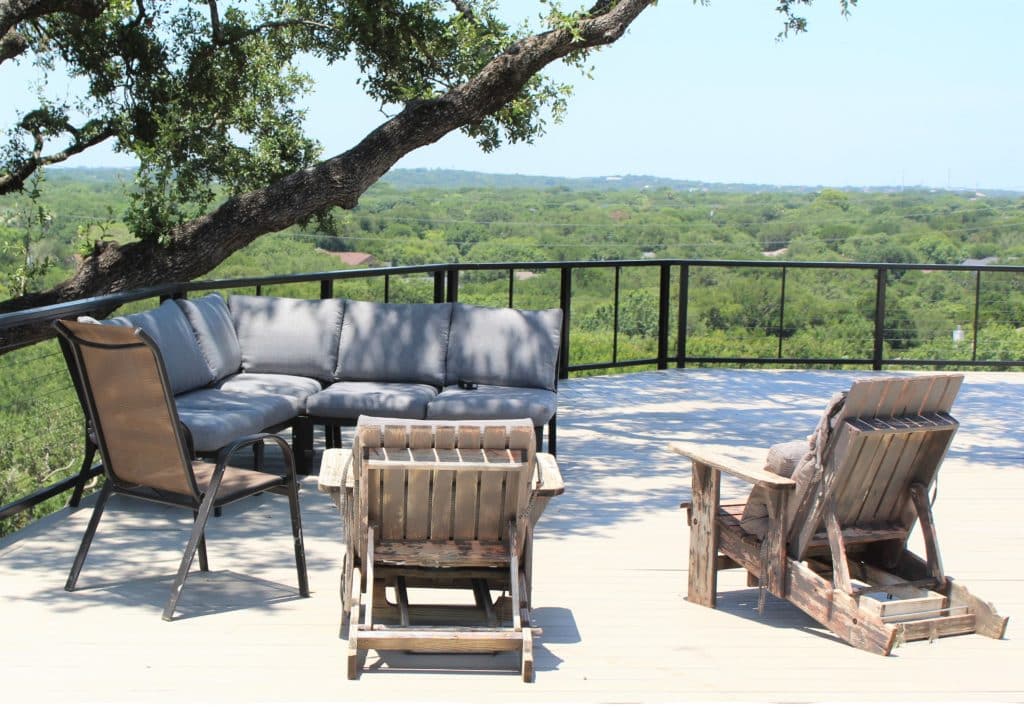 The new design brings a modern twist on western décor and doesn't stray too far from its Hill Country origins. An outdoor dining area added to the clubhouse redesign, and with it, the need for railing to seamlessly define the dining area and the landscape.
Ultra-tec cable and Invisiware fittings were installed for this project and contributed to the newer, more modern hill country design theme using sleek, nearly invisible hardware. A steel 2-inch square end post with ½-inch flat bar inline posts and a 2.5-inch x .5-inch flat bar top rail with a hardwood cap finish the railing project.
"Our company was the specified fabricator for the cable railing by the architectural design team," said Wayne Uecker, owner of Texas Railing Systems. "We installed one of our in-house design railings."
Combining steel and hardwood materials makes a modern architectural statement in what would typically be a common usage area, offering unobstructed views. At the same time, guests can dine or stand at the wood cap railing to enjoy the area's beauty.
Texas Railing Systems prefers Ultra-tec Invisiware cable and fittings and is their first choice for cable products, even incorporating Ultra-tec into their standard fabrications. Other projects by Texas Railing Systems using Ultra-tec products can be seen on their website: www.TexasRailingSystems.com.