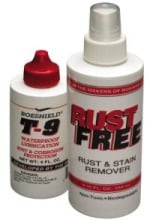 Inspect the installation on a frequent schedule, taking note of discoloration and stains.
Discoloration can and should be removed by cleaners recommended for stainless steel. We recommend the use of E-Z Clean, a two part cleaner and protectant. Frequency needed to use the product will vary completely with your location and climate.
You should expect to do regular maintenance to clean and continuously apply the protective waterproof lubricant. Regular maintenance should prove to extend the life of your cable railing system.
Note: Never use steel wool or harsh abrasive elements.