The Phil Hardberger Park Conservancy sits on the old Voelcker Dairy Farm in north-central San Antonio. The 330-acre natural park is well-known as an urban oasis featuring a nature center, outdoor classrooms, dog parks, play and workout areas, walking, hiking, biking trails, and a managed wildlife habitat. 
A masterplan community called Churchill Estates with moderately priced homes sits adjacent to the park. The property owner's house was built on a bluff overlooking the park and is not included in the neighborhood homeowner association.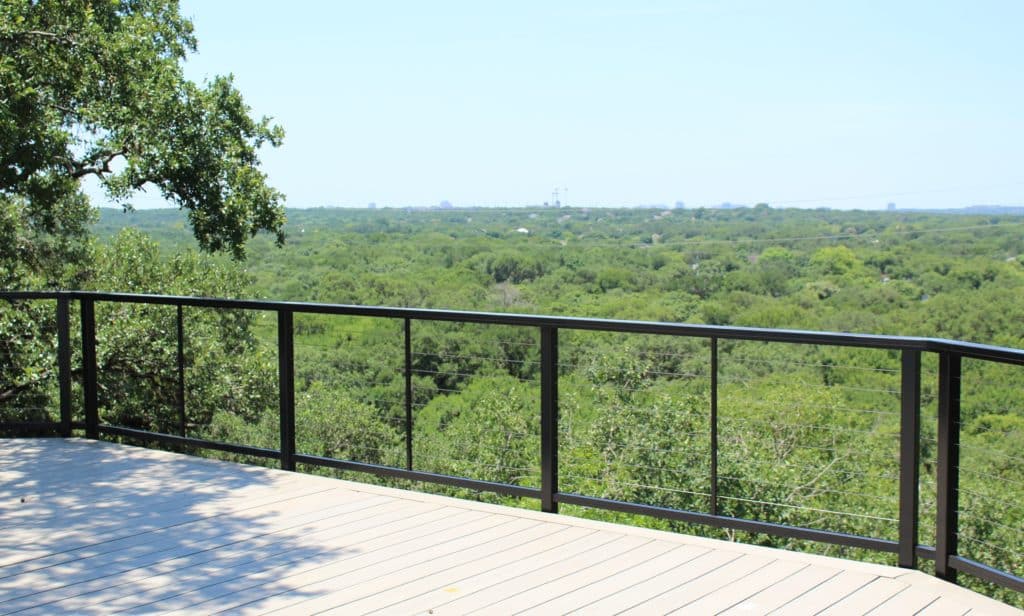 The current homeowner spotted a Texas Railing Systems truck at a Home Depot parking lot in Kerrville, about an hour northwest of San Antonio. "He took a picture of our truck door, and two years later, he called for us to provide the railing for his home," said Wayne Uecker, owner of Texas Railing Systems. 
The Texas Railing Systems crew also completed a tree top skywalk in Hardberger Park as part of a 150-foot land bridge for wildlife crossing over Wurzbach Parkway, connecting the two halves of the original dairy farm land.  
Uecker uses CR Laurence as the framework and Ultra-tec Invisiware® as part of their in-house product designs on most projects. His team installed both for this project. "The ease of use is great because it's incorporated into our standard fabrications, and we understand the Invisiware system," said Uecker.
Texas Railing Systems is a leading architectural, contemporary railing specialty company with more than one thousand projects throughout the Texas with long-standing commercial, residential, and manufacturing relationships, including their long-time supplier, Cable Art.