Deep Texas Hill Country Roots
For more than 120 years, Moore's Home Furnishing grew from a general store, a lumber store, to its current iteration of a furniture store. Early on, with deep roots in Texas Hill Country, they instilled solid and deep belief and business philosophies, including "unwavering outstanding customer service." It has served them well.
The current location opened in 1975, and in 1996, Bill and Rachel Johnston purchased it. Bill is the great-great-grandson of Thomas Jasper Moore, who established the first store in 1892 (in Ingram). In 2018, celebrating 126 years in business, a ribbon-cutting of the newly renovated retail store, designed by Huser Construction Company, was unveiled. In addition to updating the store's exterior, they redesigned the entry, office area, and design center.
As part of the remodel, cable railing was specified for the stairs and the loft area. The original cable specification, by another company, made it too costly to complete. Texas Railing Systems worked with the Huser Construction to value-engineer a system that would work with their budget. "The specified system was exceedingly over budget, and we stepped in with a value-engineered system that benefited the project," said Wayne Uecker, owner of Texas Railing Systems.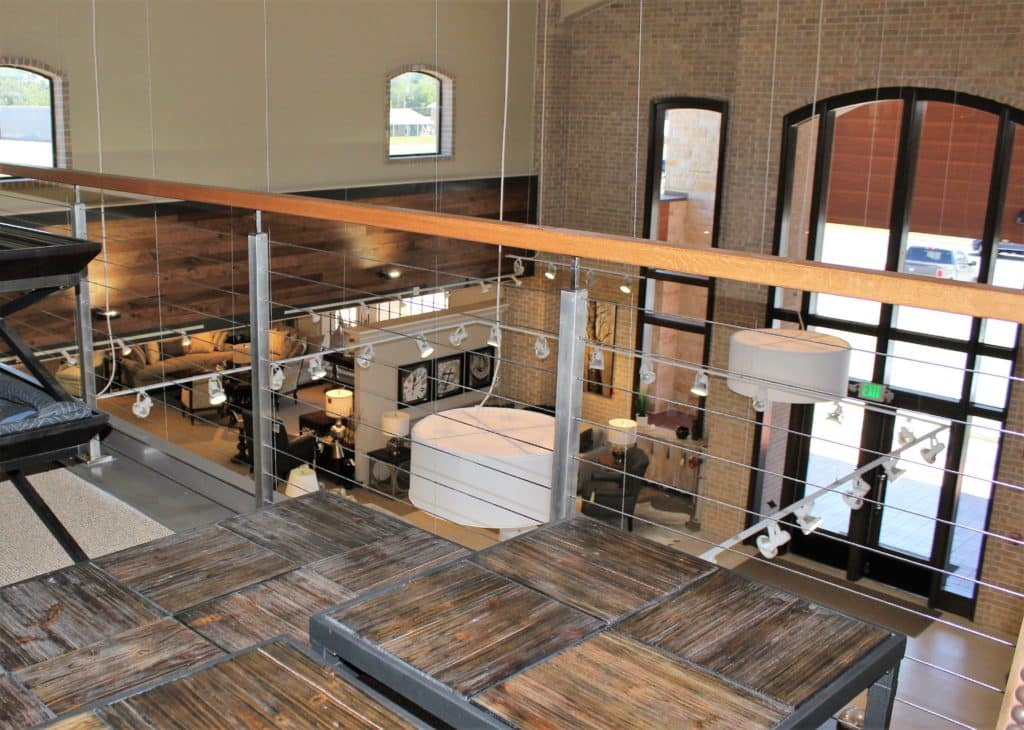 Sleek and Modern Stainless Steel Installation
Texas Railing Systems recommended a stainless-steel framework using an inch and a half stainless steel posts, a hardwood top rail and handrails, and Ultra-tec Invisiware® 1/8-inch cable. The result is a sleek and modern update of the interior, opening up the store's views.
"Ultra-tec's Invisiware is our cable railing fitting preference; it is sleek and nearly invisible hardware," said Mr. Uecker. "The hardware is easy to adjust and is our first choice go-to for cable products, and it's incorporated into our standard fabrications."
Texas Railing Systems is a leading architectural contemporary railing specialty company with more than one thousand projects throughout the Texas Hill Country. They have long-standing relationships in commercial, residential, and manufacturing, including their long-time supplier, Cable Art.
"We feel Ultra-tec is a superior product line for our cable business," added Mr. Uecker.